Welcome to Our Site!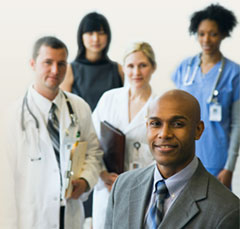 There are millions of medical personnel working on the front-lines in the healthcare industry. There are other professionals, typically "behind the scenes," that patients and other healthcare service recipients place their hope and trust upon. These professionals play important roles that often the general public does not even know about. These pros are healthcare managers also known as administrators or executives. These are the men and women responsible for managing the various healthcare facilities and organizations that take care of our nation's health needs.
What do Healthcare Managers Do?
Make sure the facilities or organizations they manage always have a strong financial, operational and medical foundation in order to properly serve the needs of their communities, families and individual patients
Have spent years developing skills to be trained healthcare managers that care deeply about patient care partnering with medical professionals – doctors, nurses and others – to make sure only the utmost quality services are delivered
Participate in ongoing community education about important healthcare issues the public needs to know about
Make sure that healthcare facilities and organizations always serve their communities providing valuable "safety nets" where people can find safe havens for emergency and continual care. Also helping to serve as a timely and accurate information portal concerning public healthcare threats when times of crisis arise.
Here at HealthcareManagement.com we provide valuable information, guidance and direction to individuals seeking to find out about the exciting and rewarding careers as executive administrators in the health industry in order to make informed decisions about personal employment futures.